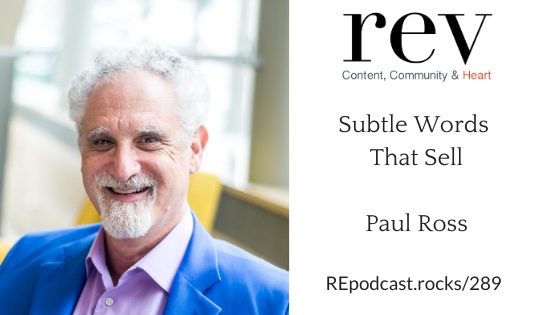 288 – Subtle Words That Sell with Paul Ross
For over 25 years, Paul Ross has been featured in leading media outlets including BBC, Fox, CNN, NBC, The Huffington Post, Uproxx, Rolling Stone, and more. His speeches and training have motivated tens of thousands to discover their power to design their own results through the power of persuasion and language.
In today's episode, we discuss how to tap into the subconscious mind using language, to improve your ability to persuade and negotiate. 
In this episode, you'll learn..
Speaking to the unconscious
Get your prospects to convince themselves to buy
Positioning yourself as a leader
Being politely confrontational
Handling objections
Creating states of consciousness
Links and resources mentioned in this episode.
To subscribe and rate & review visit one of the platforms below:
Follow Real Estate Success Rocks on: