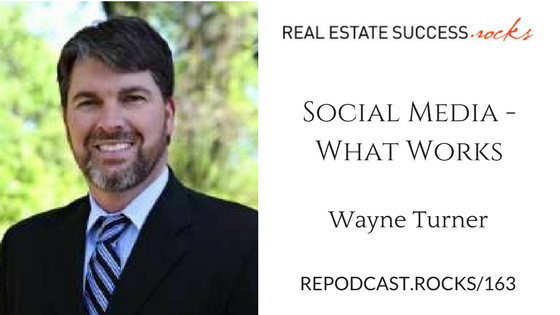 163 – Social Media – What Works with Wayne Turner
Wayne has been selling homes for 22 years, and currently serves the New Orleans, LA, area. He runs Turner Real Estate Group and has a team of 7 people. In today's episode we're talking about Social Media, the unique opportunities it presents, and how it's changing the way we approach Real Estate.  
In this episode, you'll learn..
1) How & why to use Facebook
Reply to ever single like, share and comment on every social platform.
Put the apps on your phone.
Follow every Facebook client
Create Facebook list of past clients.
Reverse Engineer – What do people like, what they do for fun, etc.
Facebook Ads – How, Why, Cost & Return
2) Building out custom search pages with Real Geeks and Boomtown.
3) YouTube.com – Create Play List
4) Instagram – How, Why, How Much
Instagram Ads – How, Why How Much
Connecting with the Community – How & Why
5) NextDoor.com
People are addicted to convenience.
6) Always give with no intensions of receiving but never be afraid to ask as soon as you feel you have giving enough to justify it.
7) It used to be TV, Newspaper and radio…Now it's Vlog, Blog and Podcast. Social Media is word of mouth on Steroids.
Links and resources mentioned in this episode.
To subscribe and rate & review visit one of the platforms below:
Follow Real Estate Success Rocks on: