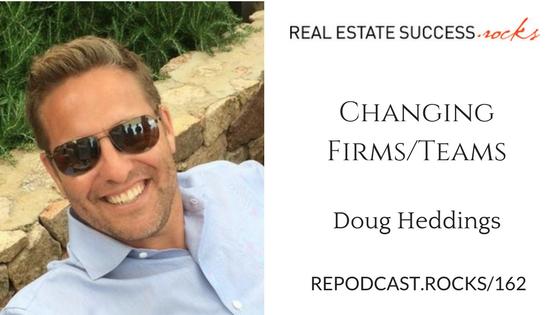 162 – Changing Firms/Teams with Doug Heddings
Doug has been in the business for 26 years, and has sold over $1 billion of real estate during his career. He was previously the owner of The Heddings Property Group and then EVP-Director of Sales at CORE. He's now an Agent Coach at Compass focused on agent productivity through mentoring, training, education and overall business development. He was also the first broker blogger and still author of the real estate blog True Gotham.
In today's episode we'll discuss making changes within your Real Estate career, including how to avoid the anxiety and uncertainty that can accompany change, and how to instead approach it as a positive experience.
In this episode, you'll learn..
Why is change necessary?
Why is it difficult for so many?
What are the signs that change is in order?
Why company/team culture matters?
How company culture can affect your clients
How to determine the right culture for you
Embracing the unknown
Links and resources mentioned in this episode.
To subscribe and rate & review visit one of the platforms below:
Follow Real Estate Success Rocks on: