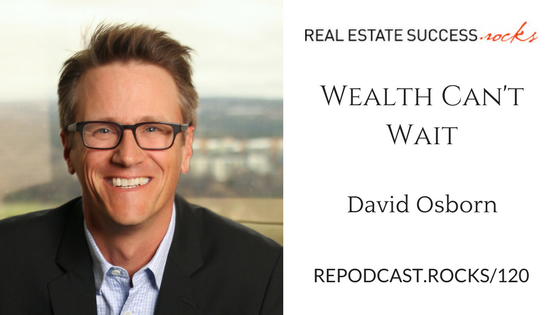 120 – Wealth Can't Wait With David Osborne
DAVID OSBORN was raised in Europe, educated in Great Britain, and completed his studies in 1990 at the University of Texas at Austin majoring in Economics. David's real estate career took off shortly after he opened his first Keller Williams brokerage in the mid-1990s. He is presently the principal owner in the 10th largest real estate company in the US with over 4,500 agents responsible for more than 25,000 transaction sides and exceeding $9 billion in sales in 2016. David has been voted for three consecutive years in the top 100 most influential people in Real Estate according to the Swanepoel Power 200. He is an operating principal and/or investor in five Keller Williams Regions and nine Market Centers.
In addition to owning regions and brokerages, David is the principal of a private equity group that has bought and sold approximately 1,000 homes. He owns more than 1,500 apartment units, office, retail, and industrial buildings. His group has bought and sold tens of millions in notes and distressed assets, improved the quality of the assets, sold them for profit, or retained them for cash flow. He is a primary investor or operator of more than 35 profitable real estate–related businesses, a Managing Partner of Align Capital and currently does, or has done, business in more than 40 states and Canada.
Firmly rooted to the principle of knowledge-sharing and giving back, he is a founder and operating partner of GoBundance, an accountability-based group of hard-charging, generous entrepreneurs living exceptional lives. Further, David sits on the board of the One Life Fully Lived non-profit, Habitat for Humanity Austin and is a member of YPO/WPO Austin, TIGER 21, and contributes to various causes—from fighting cancer to building clean-water wells through charity:water to helping lift women and children out of poverty in Ethiopia through A Glimmer of Hope to making sure little humans get more than a little care at Dell Children's Hospital. David is the proud father of two beloved daughters and one amazing son and is married to the wonderful and talented Traci Osborn.
In this episode, you'll learn..
Goal Setting

Building Wealth, 

Setting a vision for your life
Links and resources mentioned in this episode.
To subscribe and rate & review visit one of the platforms below:
Follow Real Estate Success Rocks on:
a