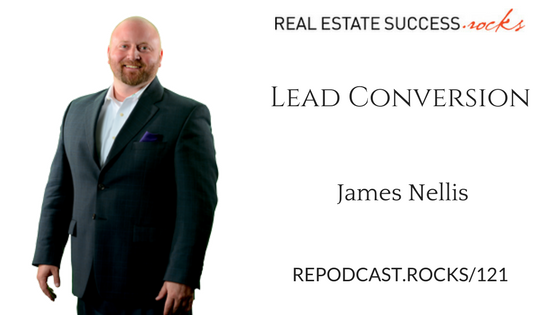 121 – Lead Conversion With James Nellis
James serves the DC, Metro area, and in 2016, he and his team of 13 sold 147 units for $76 million. Today we're talking about lead conversion, and going through some highly effective techniques to take your clients to a successful closing. 
In this episode, you'll learn..
11 Ultimate Conversion Techniques:
1. GIVE them what they want (Price, etc- give them more)
2. FAST, FAST, FAST (Lauren)
3. Multi-media approach (Call, Email, Video Text, Video Email)
4. CTA
5. Price Bracket Email (PBE)
6. Know your Numbers
7. Get them IN the Office
8. Set an Appointment
9. Consumer Benefit instead of Sale Driven
10. Create a Niche
11. Utilize your own RE Terminology
Links and resources mentioned in this episode.
To subscribe and rate & review visit one of the platforms below:
Follow Real Estate Success Rocks on: