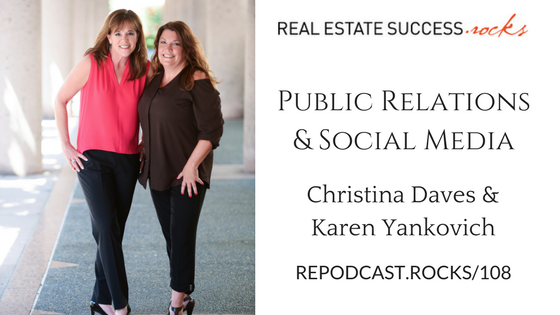 108 – Public Relations & Social Media With Christina Daves & Karen Yankovich
Get Seen Be Heard came to fruition when DIY-PR Maven Christina Daves and Social Media Strategist

Karen

Yankovich encountered struggling realtors and recognized a market absence for combining social media and PR to grow a real estate business and maximize a realtor's exposure. After joining forces, Christina and

Karen

have taken their tactics and helped realtors leverage modern tools to get seen, be heard, and position themselves in front of potential clients faster and louder than their competitors.
In this episode, you'll learn..
Retain clients from your social media platforms
Incorporate free publicity into your marketing strategies
Make use of free social media & PR tools together to gain massive exposure & success in your business
Links and resources mentioned in this episode.
To subscribe and rate & review visit one of the platforms below:
Follow Real Estate Success Rocks on: