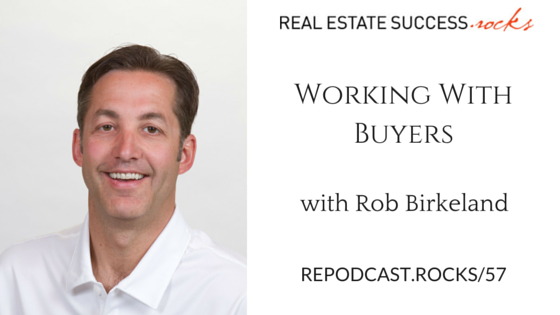 057 – Working With Buyers With Robert Birkeland
Rob Birkeland began as a buyer specialist in 1997. He and his 6 agents and 5 team members operate in North Central Minnesota, and have consistently generated over $60 in sales for the past 3 years. Rob has been in the business 19 years and has been a co-owner of the Larson group since 2007. Today we're discussing buyers; knowing the people, the properties, and how to use that information to be highly efficient as a buyers agent. 
In this episode, you'll learn…
Being a successful buyers agent
Identity & role
Identifying & catering to different personality types
Generating repeat business
Showing homes selectively
Knowledge of the properties
Links and resources mentioned in this episode.
To subscribe and rate & review visit one of the platforms below:
Follow Real Estate Success Rocks on: