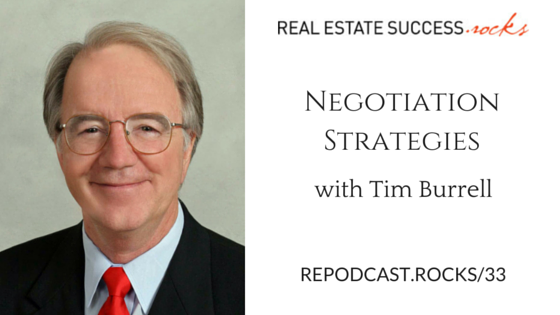 033 – Negotiation Strategies With Tim Burrell
Welcome to Real Estate Success Rocks Podcast where we help you answer the question:  What does success mean to you? Our aim is to provide content, clarity and inspiration to help you reach your goals. We're very fortunate today to have Tim Burrell, who's been in the business over 35 years, and is a master of negotiation.
In this episode, you'll learn…
Collaborative or Competitive negotiation
Recognizing the oppositions type & approach
Negotiating with bullies
Techniques – 'Split the difference' & 'red Herrings' 
Principles of negotiation
Rules & Tools
Links and resources mentioned in this episode.
To subscribe and rate & review visit one of the platforms below:
Follow Real Estate Success Rocks on: