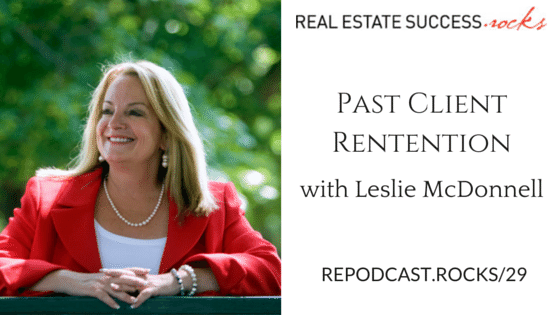 029: Past Client Retention With Leslie McDonnell
Welcome to Real Estate Success Rocks Podcast where we help you answer the question:  What does success mean to you? Our aim is to provide content, clarity and inspiration to help you reach your goals.​ We are really fortunate today to have Leslie Mcdonnell, who has been in the real estate business for 29 years. She's an expert at using networking and creativity to retain clients, and provide a great experience for all home buyers.
In this episode, you'll learn…
Pre Closing Items & Communication
After the closing housewarming parties, gifts etc
Communicating via social media.
Customer mailing plan
Past client kids ideas
Monthly drawings
Links and resources mentioned in this episode.
To subscribe and rate & review visit one of the platforms below:
Follow Real Estate Success Rocks on: