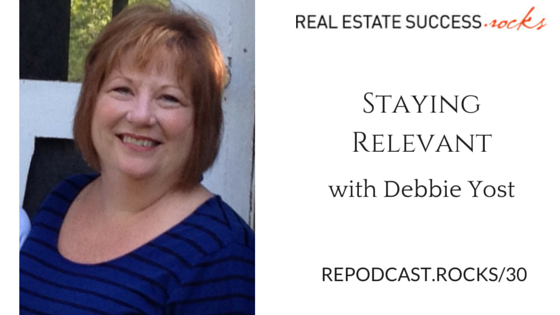 030 – Staying Relevant With Debbie Yost
Welcome to Real Estate Success Rocks Podcast where we help you answer the question:  What does success mean to you? Our aim is to provide content, clarity and inspiration to help you reach your goals.​ We are really fortunate today to have Debbie Yost, who has been in the real estate business for 35 years. We're going to discuss how to stay relevant in today's constantly changing business environment.
In this episode, you'll learn…
How sucessful businesses stay relevant
Millenials as drivers
Service vs. product
Trends
Reducing the costs of doing business
What do we need to know for the immediate future
Links and resources mentioned in this episode.
To subscribe and rate & review visit one of the platforms below:
Follow Real Estate Success Rocks on: