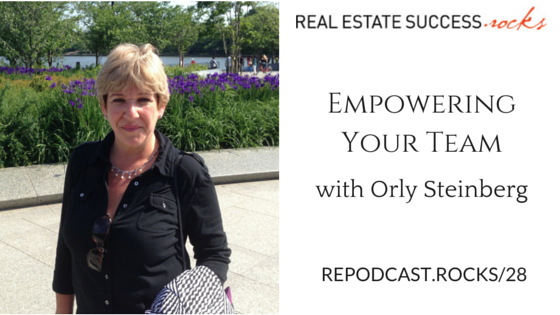 028: Empowering Your Team with Orly Steinberg
Welcome to Real Estate Success Rocks Podcast where we help you answer the question:  What does success mean to you? Our aim is to provide content, clarity and inspiration to help you reach your goals.​ We are really fortunate today to have Orly Steinberg who has been in the real estate business for over 28 years. Orly Steinberg has experienced virtually every imaginable situation or transaction and she is an expert at empowering her team.
In this episode, you'll learn…
How Orly starts the organization from her team with culture
The key factor is owning your job!
Why the core values of your team are important
How to be prepared to take a step back in order to go two steps forward
Links and resources mentioned in this episode.
To subscribe and rate & review visit one of the platforms below:
Follow Real Estate Success Rocks on: