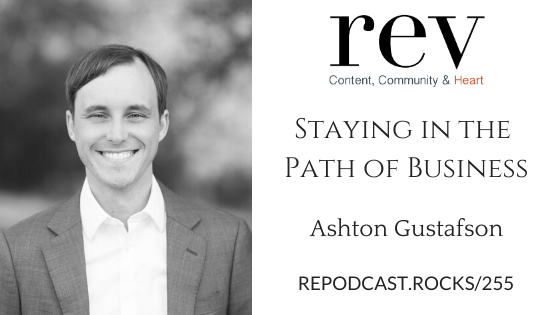 255 – Staying in the Path of Business with Ashton Gustafson
Ashton Gustafson is a highly sought-after public speaker, nationally recognized Realtor, artist, musician, poet, amateur cosmologist, and currently in pursuit of more things to become. In 2010, Realtor Magazine named Ashton one of the top 30 Realtors in the United States under the age of 30. He has keynoted from Los Angeles, CA to Burlington, VT in the United States as well as internationally in Canada and Spain.
He writes about the art of living, finding beauty in the hidden places, and making music with your life, relationships, and business. His podcast, Good, True, & Beautiful, serves as a platform for thought leaders and visionaries from across the country to share their wisdom and insights on making the world a better place.
In addition to his writing and speaking, Ashton is currently a partner at Bishop Realtor Group, Meadowlake Management, and Muse Capital in Wichita Falls, TX as well as A.G. Real Estate & Associates in Waco, TX.
In today's episode, we explore the fundamental principles that build relationships and allow you to develop your business. 
In this episode, you'll learn..
 If the phone rings, they already trust us
 Trust is the currency, how do you build trust – how to connect
 Defining your magic metrics
Links and resources mentioned in this episode.
To subscribe and rate & review visit one of the platforms below:
Follow Real Estate Success Rocks on: