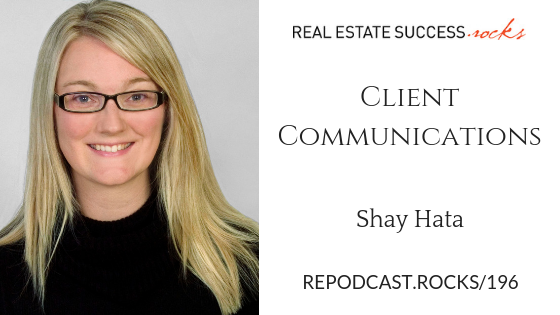 196 – Client Communications with Shay Hata
Shay has been in the business for 5 years and serves Chicago and the nearby suburbs through Berkshire Hathaway Koenigrubloff. In 2017 she sold 75 units for $32 million, with the help of her team of 4 people. 
In today's episode, we discuss how to manage communication with your clients, automating processes for greater efficiency and maintaining relationships over time. 
In this episode, you'll learn..
Why you should automate your communication with prospective, current and past clients
How that can help grow your business
What you need to automate communication (a website, blog, and a CRM with drip campaign capability)
What content is best to automate
When to send content so it feels personal, relevant and not automated
Links and resources mentioned in this episode.
To subscribe and rate & review visit one of the platforms below:
Follow Real Estate Success Rocks on: