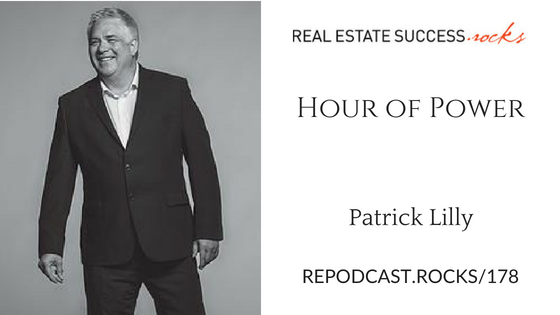 179 – Hour of Power with Patrick Lilly
Patrick Lilly has been a successful residential real estate broker in Manhattan and Brooklyn for the past 30 years. Having sold over a billion dollars of real estate and more than 1,000 homes, Patrick's team is consistently ranked as one of the Wall Street Journal's top 250 teams in the nation.

He is the Founder of Real Estate Vision, an educational and networking group of top producing agents across North America, as well as Real Estate Success Rocks, an organization that hosts real estate conferences and a weekly podcast.  Patrick is also a frequent speaker at conferences and seminars throughout the world.

In 2007, Patrick earned his life coaching credentials.  He conducts seminars throughout the world on discovering one's essence and purpose in life.

Additionally, Patrick divides his time between a New York City apartment, a little stone cottage upstate, and pursuing his greatest passion in life of traveling throughout the world.  
In today's episode, we cover a consistent daily practice that is vital to maintaining an influx of new clients for your business.
In this episode, you'll learn..
What is the 'Hour of Power'?
Time Blocking
Methods of lead generation
Prospecting with a relationship based approach
Links and resources mentioned in this episode.
To subscribe and rate & review visit one of the platforms below:
Follow Real Estate Success Rocks on: