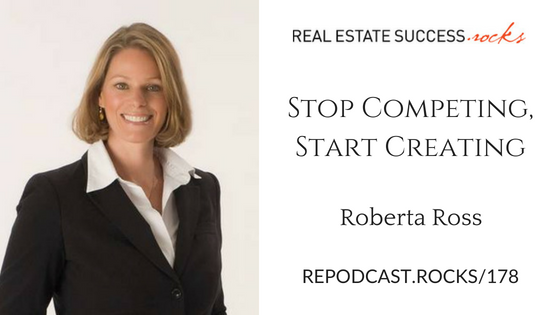 178 – Stop Competing, Start Creating with Roberta Ross
Roberta is the President of Six Figure Real Estate Coach. She's a Dynamic Speaker, Author & Business Coach, helping others to "Make more money, experience more joy, and succeed with ease."
In today's episode, we discuss how and why Roberta re-framed her branding, as she began to look beyond monetary ambitions to deeper measures of success. 
In this episode, you'll learn..
Why I changed my tagline to "Make more money, experience more joy, succeed with ease." 
"no pain no gain" is a lie.
A simple yet powerful question everyone must ask themselves in order to achieve the trilogy of success. 
Links and resources mentioned in this episode.
To subscribe and rate & review visit one of the platforms below:
Follow Real Estate Success Rocks on: