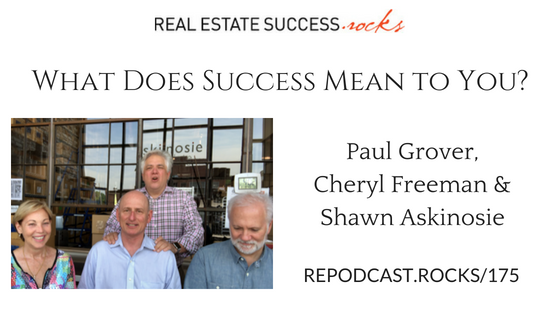 175 – What Does Success Mean to You? Paul Grover, Cheryl Freeman & Shawn Askinosie
Paul Grover is a co-founder of Robert Paul Properties and consistently ranks as one of the top luxury real estate agents in the United States. Since starting his career in 1981, he has personally handled over $1.5 billion in sales and steadily brokers some of the most expensive residential transactions in Massachusetts.
Cheryl Freeman has set the standard for others by consistently ranking in the top 1% nationally in residential loan originations since she first entered the mortgage business in 1992. Prior to being a mortgage specialist, Cheryl was a successful local real estate broker. She is uniquely qualified to match home buyers needs with loan programs.
In 2005, Shawn Askinosie left a successful career as a criminal defense lawyer to start a bean to bar chocolate factory and never looked back. Recently named by Forbes "One of the 25 Best Small Companies in America", Askinosie Chocolate has also been featured in The New York Times, The Wall Street Journal, on Bloomberg, MSNBC and numerous other national and international media outlets.
In today's episode, at the Askinosie Chocolate Factory in Springfield, the four of us discuss the question at the core of this show – How do each of us define success in our own lives?
In this episode, you'll learn..
Identifying your concept of success
Moving past superficial markers of success
Defining what is enough
Links and resources mentioned in this episode.
To subscribe and rate & review visit one of the platforms below:
Follow Real Estate Success Rocks on: