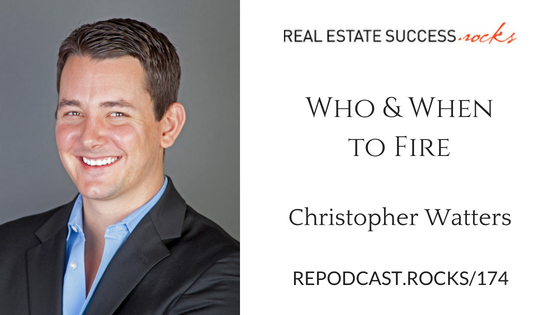 174 – Who & When to Fire with Christopher Watters
Chris Watters has been in the business for 10 years and has served the Austin, Killeen, San Antonio & Amarillo, Texas areas for 8 years, as the owner of Watters International Realty. In 2017, he and his team, totaling 91, sold 688 units, 516 of which were in Austin. 
In today's episode, we'll discuss creating a hiring process that promotes a good personal fit for your business, and what to do when things don't work out so well, and you need to let people go.
In this episode, you'll learn..
The right "who" to look for when hiring 
Cutting employees & agents fast and quick, rather than having them drain resources
Making sure hires are a good culture fit & have the same core values as the company  
The Team model that we use
Links and resources mentioned in this episode.
To subscribe and rate & review visit one of the platforms below:
Follow Real Estate Success Rocks on: