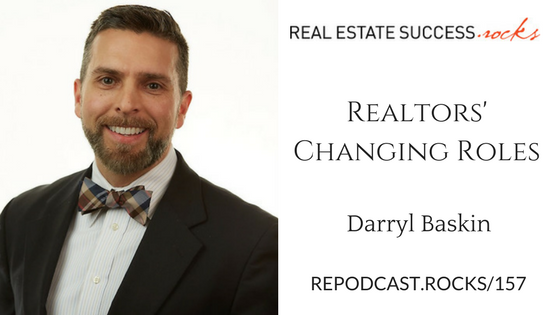 157 – Realtors Changing Roles with Darryl Baskin
Baskin is the state broker for eXp Realty, and also operates The Baskin Real Estate Specialists, with eXp Realty personally closing in excess of $20 million each year in annual sales in the Tulsa metropolitan area. His innovative marketing approach specializes in high-tech efficiency and high-touch service of convenience for his clients. With a weekly radio and television show, The Future of Real Estate that broadcasts on Tulsa's most listened to talk radio station, KRMG.com, Darryl's market reach has made him a household name for real estate expertise across the entire northeastern part of Oklahoma. Darryl also owns and innovative live production company called TulsaLiveEvents.com specializing in professional video streaming, and he founded and owns the Ice House Fitness Centers in Bixby, OK and Wagoner, OK.
Baskin is accepted into Cyberstars, a national tech savvy Realtor group; and Star Power, high-volume agents who share experience and train at national events. He also serves on the Northeastern Oklahoma Real Estate Services Rules and Regulations Committee, Greater Tulsa Association of Realtors, and the Oklahoma Association of Realtors Grievance Committee.
In todays episode we'll be talking about the evolution of the Real Estate industry, and how the roles of Realtors are changing, and may change in the future, with the advent of new practices and technology. 
In this episode, you'll learn..
Changes in other Industries
Impact on the economy
Transaction Stream-lining
Agent Efficiencies
Links and resources mentioned in this episode.
To subscribe and rate & review visit one of the platforms below:
Follow Real Estate Success Rocks on: