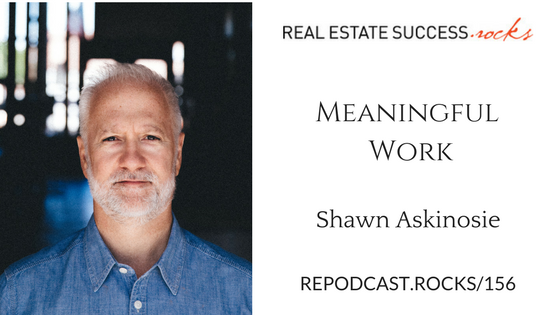 156 – Meaningful Work with Shawn Askinosie

In 2005, Shawn Askinosie left a successful career as a criminal defense lawyer to start a bean to bar chocolate factory and never looked back.
Askinosie Chocolate is a small batch, award winning chocolate factory located in Springfield, Missouri, sourcing 100% of their beans directly from farmers. The only chocolate maker working directly with cocoa farmers on four continents, Shawn travels to regions of Ecuador, the Philippines and Tanzania to source cocoa beans for his chocolate. This allows the chocolate to be traced to the source and labeled authentic single origin. It also enables Askinosie Chocolate to profit share with the farmers, giving them a "Stake In the Outcome," a principle he learned from author/entrepreneur Jack Stack.
Recently named by Forbes "One of the 25 Best Small Companies in America", Askinosie Chocolate has also been featured in The New York Times, The Wall Street Journal, on Bloomberg, MSNBC and numerous other national and international media outlets.
Today we're talking about taking your purpose beyond that of monetary reward, identifying what drives you, and applying it in your career to have a positive impact on the world. 
In this episode, you'll learn..
 Previous career in law
 Finding your passion
 Integrating your vocation into your work
 How much is enough?
 Reverse Scale
 Being vs. Doing
 If you want to change the world, start with yourself
Links and resources mentioned in this episode.
To subscribe and rate & review visit one of the platforms below:
Follow Real Estate Success Rocks on: