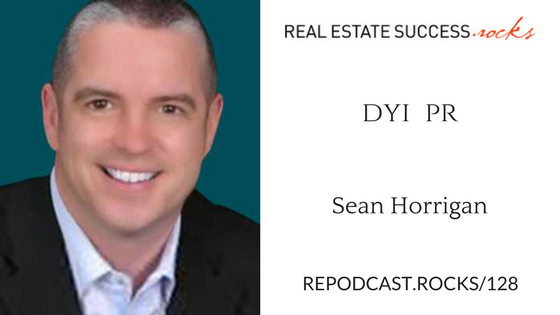 128 – DIY PR With Sean Horrigan
Sean Horrigan is the principal of PR Guy, a Boston based consultancy that helps small to mid-size businesses grow and flourish through powerful PR and strategic social media campaigns. Today we're talking about doing your own PR, and the value of connecting with journalists for maximum exposure.
In this episode, you'll learn..
How to create a customized media list 
Start with 15-20 bloggers, journalists
Follow them on social, read their posts/columns
Create a relationship
Become a resource
Why press releases no longer work?
What is a pitch and how to craft your pitch to the press?
Editorial Calendars: How agents can use editorial calendars to generate press
What is an editorial calendar?
Where to find editorial calendars?
Photos are important!
Does your property have a story/history?
What makes it unique? 
Links and resources mentioned in this episode.
To subscribe and rate & review visit one of the platforms below:
Follow Real Estate Success Rocks on: