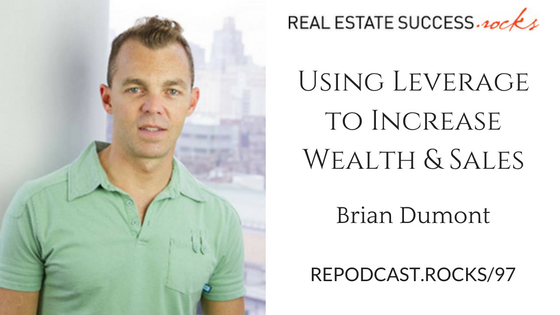 097 – Using Leverage To Increase Wealth & Sales With Brian Dumont
Dumont Financial is an independent financial services firm that believes that you have more to gain by preventing losses than by simply chasing a rate of return.  This means that they look for the inefficiencies in both your strategies and your portfolios.  Today we're going to focus on one strategy, specifically an area where many people lose a lot of money because of their misunderstanding of how to use leverage to their advantage.
In this episode, you'll learn…
Why don't more people buy a second home or invest in real estate? 
How can you encourage your clients to purchase more real estate from you in the future? 
Clients believe that paying cash is the best, safest, cheapest option. As a result, they tie up much of funds in the equity of their home which is then not available for a second home or investment property. Instead, recognize & address the three common misunderstandings of using leverage. 
Three reasons people want to pay cash/not use leverage… a. They don't want to pay interest. b. They don't want to have a mortgage once they are retired. c. They feel insecure if they have a mortgage. 
Do these reasons make sense? 
Safety = control = having access to your money whatever the circumstances 
How to properly structure a side fund that gives you a predictable, competitive return, with liquidity features, contact a financial adviser
Helping your clients understand the benefits of leverage puts them in a better position for opportunities (spread) or emergencies (control of their equity), and makes money potentially more available for future real estate purchases
Links and resources mentioned in this episode.
To subscribe and rate & review visit one of the platforms below:
Follow Real Estate Success Rocks on:
Brian Dumont is an Investment Advisor Representative, Cambridge Investment Research Advisors, Inc., a Registered Investment Advisor. Registered Representative, Securities offered through Cambridge Investment Research, Inc., a Broker/Dealer, Member FINRA/SIPC. Dumont Financial is independent of Cambridge.
Using leverage involves risk of loss, including the underlying asset. Clients and prospective clients should be prepared to bear investment loss.  These are the opinions of Brian Dumont and not necessarily those of Cambridge, are for informational purposes only, and should not be construed or acted upon as individualized investment advice.