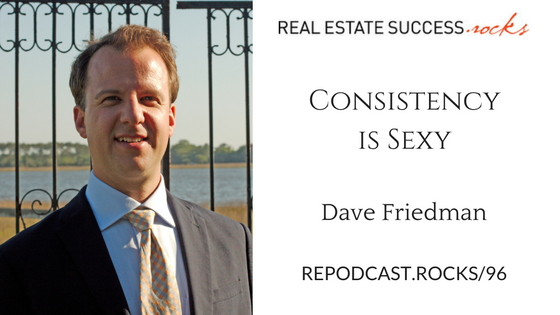 096 – Consistency Is Sexy With Dave Friedman
Dave and his team of 10 operate in the Charleston SC area. In 2016 they sold 195 units for $55 million. Today we're discussing organisational methods to generate consistent results. We'll be covering the systems and routines that make this work efficiently. 
In this episode,you'll learn…
Daily

The Miracle Morning

Tell Me Something Good Call

Dominate Your Day

Daily Prospecting using Mojo

Daily Follow Up

Weekly

Pipeline Report

List of Opportunities

Hopper System

Weekly 1 on 1

Weekly team meetings – agenda

Database marketing – The 70 Touch System

Grading your business on a score card using quarterly look-backs
Links and resources mentioned in this episode.
To subscribe and rate & review visit one of the platforms below:
Follow Real Estate Success Rocks on: