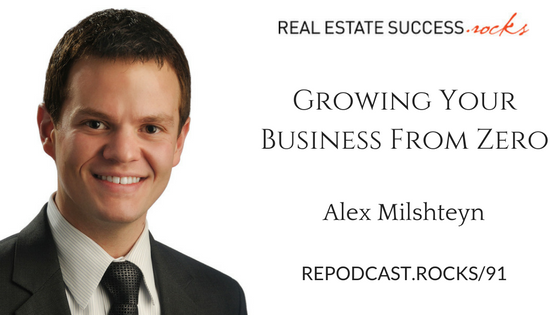 091 – Growing Your Business From Zero With Alex Milshteyn
Alex specializes in residential property sales in the Greater Ann Arbor Area, Michigan. He has earned an extraordinary reputation selling real estate by combining his enthusiasm and passion for first class service with rigorous market research and the utmost respect for business ethics. Through his 16 years of experience, Alex has handled well over 2,000 property sales; he has represented his clients through many difficult obstacles in a real estate transaction to ultimately end with a happy result of meeting his clients' goals. Alex prides himself on his expert negotiating skills and considers this to be one of the greatest benefits to his clients.
In this episode,you'll learn…
Starting at 18
Re-defining 'No'
Needing help
Long-term goals
Links and resources mentioned in this episode.
To subscribe and rate & review visit one of the platforms below:
Follow Real Estate Success Rocks on: