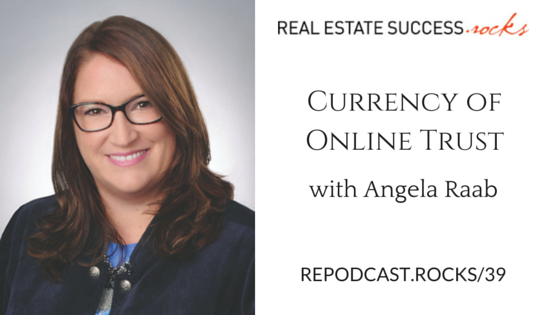 039 – Currency Of Online Trust With Angela Raab
Angela Raab is the Director of Agent Development and Technology Advancement for the F.C. Tucker Company in Indianapolis, Indiana. She's here to discuss how data collection is being used to create online reputations, and how this affects interactions between businesses and individuals. 
In this episode, you'll learn…
Businesses are starting to rate customers and using that information to decide how to serve consumers.
Technology movement to create an "online reputation score" for consumers that crosses platforms, and can be utilized by business to determine if a client is trustworthy, reliable, dependable and credit-worthy.
This score will become more important than our credit scored in the near future. As business owners, it will become one of the most important determining factors on whether a consumer wants to do business with you.
The new reputation score consists of your traditional credit score, level of community involvement, social reputation, social connectivity and trust weighting.
Tools that will help agents manage their online reputation.
What happens if you have a reputation crisis.
The art of the online apology.
How to move from reactive online reputation management to proactive online reputation management.
Links and resources mentioned in this episode.
To subscribe and rate & review visit one of the platforms below:
Follow Real Estate Success Rocks on: