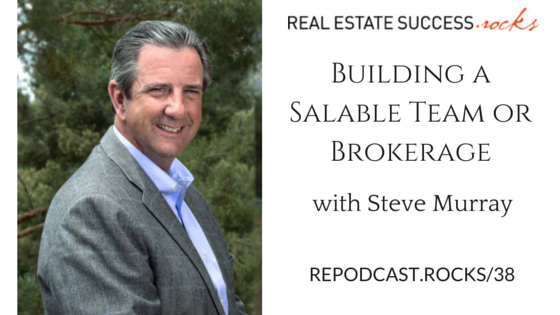 038 – Building A Salable Team Or Brokerage With Steve Murray
Steve Murray is President of REAL Trends, and the leading advisor and broker on residential brokerage mergers and acquisitions.  Since founding REAL Trends in 1987 Murray has completed over 2,350 valuation assignments of brokerage firms and advised or brokered the sale of over 670 brokerage firms and related entities.  In addition, REAL Trends publishes five online trends publications and annually hosts 14 CEO conferences.
In this episode, you'll learn…
How real estate brokerage firms are valued today
The keys for an agent or team to create maximum value
The ranges of terms of transactions
What buyers are seeking when they consider investing in or buying an agents or teams business
Links and resources mentioned in this episode.
To subscribe and rate & review visit one of the platforms below:
Follow Real Estate Success Rocks on: