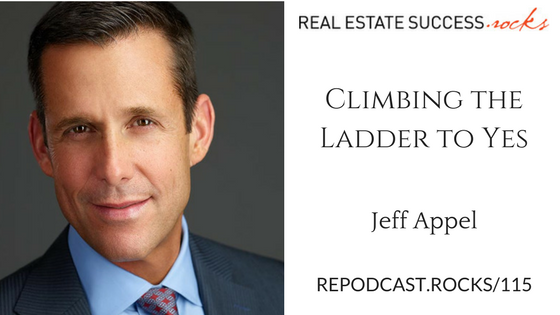 115 – Climbing The Ladder To Yes With Jeff Appel
Jeff Appel is a record-setting sales professional and industry-leading executive who is widely recognized as a singular figure in New York City real estate.
Jeff's passion for sales began after he purchased and flipped his first home in Los Angeles which he sold in a matter of months at a considerable profit. The success of that transaction led Jeff to transition from his career in television production to real estate. He was soon advising many of his entertainment industry peers about the advantages of real estate investment.
Soon after, Jeff launched his own real estate sales and residential finance firm in Los Angeles which he successfully operated for nearly a decade. Lured by the growth of the Manhattan real estate market, Jeff moved to New York and quickly became one of the city's top professionals. Since that time, Jeff has built an incomparable reputation as an industry educator and leader, having participated in literally thousands of transactions valued in the billions of dollars.
Most recently Jeff joined Bank of America as Vice President to bring creative lending solutions to the Manhattan new development, condominium and coop sales markets.  
In recent years, Jeff has had broad experience in the residential sales and leasing side of the business most recently as President and COO of TOWN Residential. 
As an industry expert, consultant and spokesperson, Jeff continues to share his knowledge to create strategies for success with the real estate elite of New York.
Jeff is a New York State licensed real estate instructor, broker and faculty member of the Real Estate Board of New York's exclusive NYRS Advanced designation program. As a member of the Real Estate Board of New York's residential education committee, Jeff continues to contribute to the professional development of his peers. 
Jeff has served as guest educator for numerous residential firms in New York City and is frequently quoted as a real estate expert by several media outlets.
Today we're talking with Jeff about how to project your personal identity to a client, and ultimately get them to agree to work with you, or give you their business. 
In this episode, you'll learn..
Why me?
Why this?
I know the job & I can do it
I want to do it
Why not hire me?
Links and resources mentioned in this episode.
To subscribe and rate & review visit one of the platforms below:
Follow Real Estate Success Rocks on: