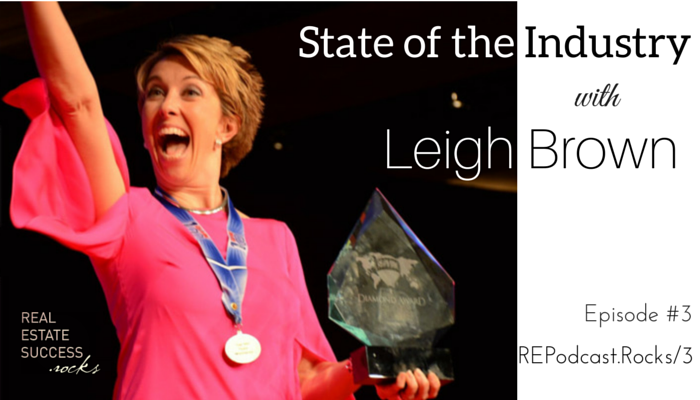 003: State of the Industry with Leigh Brown
Welcome to Real Estate Success Rocks Podcast where we help you answer the question:  What does success mean to you? Our aim is to provide content, clarity and inspiration to help you reach your goals.​ We are really fortunate to have Leigh Brown who is from Charlotte, North Carolina. In 2014 Leigh's team of 11 did over $68 million in volume and 276 sides. In addition to being a top producer and being one of the best speakers in the real estate industry, she's probably the most dedicated individual you'll ever meet. She's the first Vice President of CRS and will be the President in 2017, she's an Inman Contributor and on many NAR Committees.
In this episode, you'll learn…
What drives Leigh Brown and what challenges in her life she enjoys.
Leigh's opinion on the new appraisal rules and what you can do to adapt.
How real estate industry education has evolved.
If real estate designations are still relevant and what they mean to Leigh.
What Patrick Lilly and Leigh Brown use as their CRM.
What opportunities exist now that were not available in the past.
What upsets & excites Leigh the most in our real estate industry.
Questions to ask yourself.
What are your passions?
What gets you excited?
What helps you become greater than you currently are?
Links and resources mentioned in this episode.
To subscribe and rate & review visit one of the platforms below:
Follow Real Estate Success Rocks on: