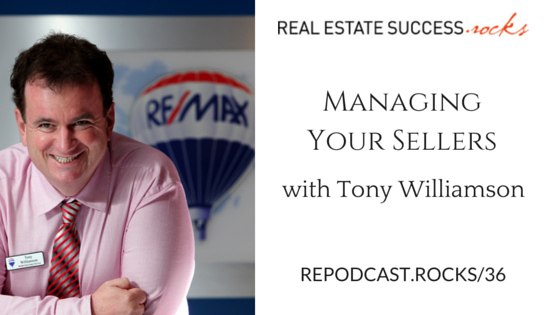 036 – Managing Your Sellers With Tony Williamson
Welcome to Real Estate Success Rocks Podcast where we help you answer the question:  What does success mean to you? Our aim is to provide content, clarity and inspiration to help you reach your goals.​ We're very fortunate today to have Tony Williamson, who's a Remax Broker from Cairns Australia with 25 years experience. Today he's going to share his knowledge on managing your sellers, and the process of acceptance..
In this episode, you'll learn…
Five Stages Of Acceptance: Denial, Anger, Bargaining, Depression, Acceptance
Based on the hypothesis that when something bad happens, people go through a process before accepting their new reality
Understanding this process to manage your sellers more effectively
Links and resources mentioned in this episode.
To subscribe and rate & review visit one of the platforms below:
Follow Real Estate Success Rocks on: