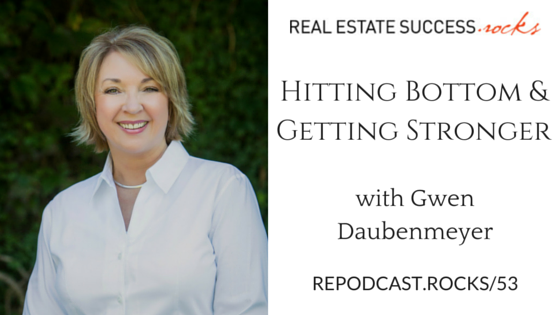 053 – Hitting Bottom & Getting Stronger With Gwen Daubenmeyer
Gwen Daubenmeyer operates in the northern suburbs of Metro, Detroit. In 2015 she generated $29 million in volume over 131 units, and for the past 4 years has worked with a team of 5, consisting of 3 agents & 2 staff. Today Gwen is discussing with us the dramatic ups and downs of her career, and how she rebuilt her business from the disastrous crash experienced by many in 2009.   
In this episode, you'll learn…
Hitting bottom
The recovery
The 7 Spiritual Laws of Breaking Bad
Invest in yourself
2 life changing truths
Starpower
Links and resources mentioned in this episode.
To subscribe and rate & review visit one of the platforms below:
Follow Real Estate Success Rocks on: