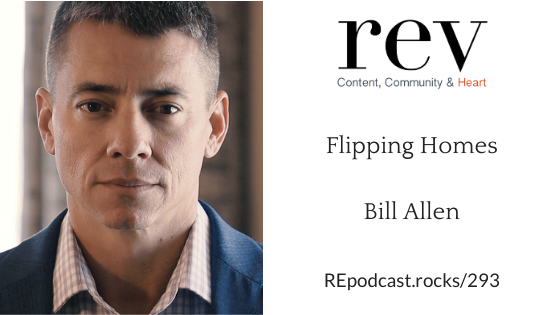 293 – Flipping Houses with Bill Allen
Bill Allen is a real estate investor based out of Nashville, TN. He and his team currently flip and wholesale 200+ deals per year in Tennessee and northern Florida. Just a few years ago, he was stuck flipping 1 or 2 houses per year and doing all the work himself, but since then, he's built a systematized business that runs without him and has begun showing other investors how to do the same. Bill is the CEO and owner of 7 Figure Flipping, where he helps lead the top house flipping and wholesaling mentoring groups in the nation.  
In today's episode, we discuss how to build a successful business flipping homes.
In this episode, you'll learn..
Finding a good property to flip
Choosing properties that only need superficial enhancement
Working out profit margins
Leveraging investors 
Determining probability and risk over multiple properties
Growing from a few properties to many
Direct Mail & other marketing
Tips for starting out
Links and resources mentioned in this episode.
To subscribe and rate & review visit one of the platforms below:
Follow Real Estate Success Rocks on: