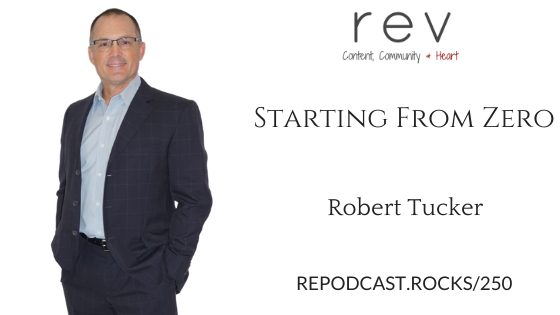 250 – Starting from Zero with Rob Tucker
Rob retired from active sales in 2016 to help his son & daughter pursue their dreams. Rob's daughter is favored to make the 2020 Tokyo Olympic team in shooting, and is now in college on an athletic and academic scholarship. His son has a goal of playing collegiate soccer. 
Rob has been an agent since 2001, but became homeless and bankrupt during the dotcom bust. He borrowed money to take the real estate course and exam, and borrowed a spare bedroom to live in. 
In 2001 he was RE/MAX Rookie of the Year, with $12.5 Million in sales, which he built to $60 Million in 3 years. He bought and Founded the 1st 3 market centers (1st agent in Charlotte) in Charlotte NC (Ballantyne now the #1 most profitable market center in the world for KW) #4 company in 9 months, #1 in 3 years.
He then moved to Boulder CO, and became the #1 agent in 6 months – He sold $11 Million that year, $30 Million in year 2 and $60 Million in year 3.
Rob divorced and moved to Florida, becoming the #1 agent in 6 months, selling $12 Million that year, $24 Million in year 2 and $60 Million year 3.
Rob founded Robert Tucker Coaching in 2005 to help his offices, team and the agents that he knew and networked with. He's passionate about helping agents, brokers and teams succeed in today's market. There is so much noise that agents have to shift through on a daily basis that pulls them in so many different directions and doesn't work. Rob cuts through that noise and deliver only what is proven to work regardless of who the agent is, where they live or the economy!
In today's episode, we talk about going back to basics, and the strategies you'd use to grow quickly if you had to start from scratch. 
In this episode, you'll learn..
Starting with a plan
Sphere of influence
FSBO
Open house follow up
Expired listings
Social media
Links and resources mentioned in this episode.
Twitter: RobertDTucker
Instagram: roberttuckercoaching
To subscribe and rate & review visit one of the platforms below:
Follow Real Estate Success Rocks on: