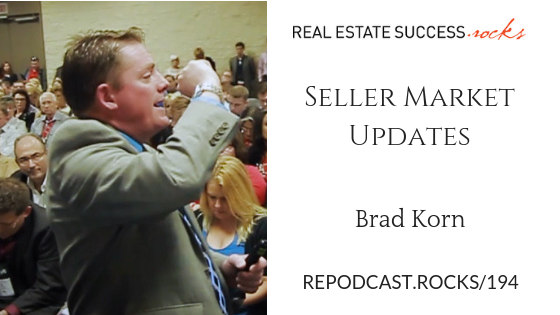 194 – Seller Market Updates with Brad Korn
Brad has been selling real estate for over 15 years. He didn't have a very successful start; His first 3 years in business Brad comments, "I made less than the average agent. I probably should have gotten out of real estate, but I'm glad I didn't". 
Over the past 13 years, Brad and his team have experienced huge growth, several of those years doubling in volume. What's the secret? "I am an education sponge", Brad says. He takes time to attend conferences, seminars and network with other agents, then he implements the plans and ideas. Now Brad and his team are recognized Nationally as one of the top real estate teams in the country.
In today's episode, we talk to Brad about upcoming changes in the market, and how he uses statistics to promote compliance from sellers and position himself above the competition. 
In this episode, you'll learn..
Communication with the seller after listed, focusing on frustrated seller
Update market stats bi-weekly
Recap showing online traffic
Online exposure
Formulate a strategy to stay ahead of the market
Links and resources mentioned in this episode.
To subscribe and rate & review visit one of the platforms below:
Follow Real Estate Success Rocks on: