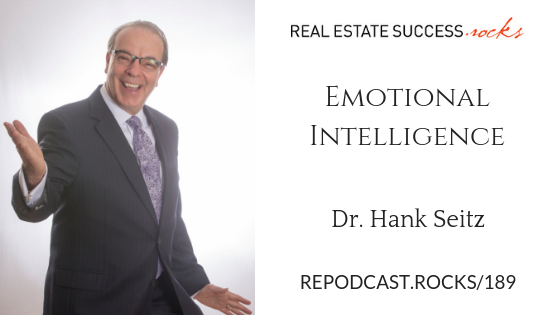 189 – Emotional Intelligence with Dr. Hank Seitz
Dr. Hank was recently named America's Premier Expert in Business and Performance Development and is also a best selling author. His most recent book "The Happiest Man In The World", is an autobiography that shares with the reader how they too can overcome any and all challenges to be happy and thrive in their lives.
Dr. Hank provides the finest training in achievement and personality characteristics. He trains people to develop positive attitudes, mental re-programming, goal setting and problem-solving. But most of all, Dr. Hank helps people become surrounded by uplifting, supportive and happy people – starting with him!
Dr. Hank is referred to as "The Positive Thought Doctor" and is a mental scientist, behavioral psychologist and businessman who "channels solutions for his clients". He has been called "the spiritual teacher" and likened to that of Santa Claus! He is said to carry with him priceless presents that teach others how to become deliberate creators of their lives. He specializes in helping people have their dreams come true!
He serves on the Board of Ultima Real Estate and Advance Rewards Funding and is on the advisory board of the Citrix Corporation. He is a philanthropist and humanitarian who casts unconditional love and compassion unto the world.
In today's episode, we discuss the application of emotional intelligence and the law of attraction when enhancing our relationships and our business. 
In this episode, you'll learn..
Importance of our emotions. 
How emotions play into creating our dreams.
3 Steps of manifesting
EQ assessment
How to raise your level of emotions that will raise your point of attraction!
Links and resources mentioned in this episode.
To subscribe and rate & review visit one of the platforms below:
Follow Real Estate Success Rocks on: