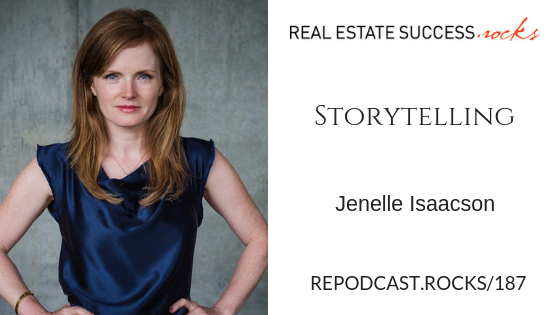 187 – Storytelling with Jenelle Isaacson
What does being the lead singer and guitar player in a female punk band have in common with starting a real estate company in the middle of a recession? Not many people can answer that question. But when you ask Jenelle Isaacson, founder, and CEO of Living Room Realty, there's no hesitation; where most would see a chasm, she sees a bridge.
Jenelle Isaacson is the owner of award-winning real estate firm Living Room Realty, in Portland Oregon. Founded in 2009, Living Room Realty offers residential, commercial and property management services. Living Room ranks in the top 15 real estate companies in Oregon, with more than 90 affiliated broker-agents. For Jenelle, it's all been about finding a voice—the singular and irrepressible expression of self. Whether it's business or music, "It's important to know what your voice is. If it's true, it will resonate." 
Noted Achievements: First west coast real estate office to receive B Corp status • Oregonian's Best Places To Work, 3rd place in 2015 • Oregon Business in Ethics Awards in 2014 • Jenelle has been featured in The Portland Monthly, Oregon Business, and Realtor Magazine • Portland Business Journal 40 under 40 Business Leaders • Board of Directors, Rock n Roll Camp for Girls, receiving recent award for creative philanthropy • Board Member, Entrepreneurs' Organization Global Network, Portland chapter • Orchid Award recipient for Business and Civic Contributions • Guest speaker: OPB's Think Out Loud, Investor Beat, Cascadia Green Building Council • Advocate speaking on behalf of Benefit Corporation legislation with Oregon Secretary of State, Kate Brown
In today's episode, we discuss how to use storytelling to focus on attracting the ideal buyer, and the advantages of this over trying to appeal to everyone. 
In this episode, you'll learn..
Storytelling. Turning the focus from the house to the people.
Telling the real story creates a personal connection, builds trust and finds a captive audience.
Maximizing the impact of your stories.
Storytelling in your market.
Links and resources mentioned in this episode.
@jenelleisaacson (Twitter)
To subscribe and rate & review visit one of the platforms below:
Follow Real Estate Success Rocks on: