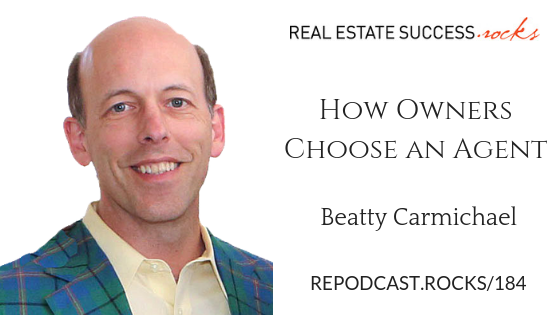 184 – How Owners Choose An Agent with Beatty Carmichael
Beatty Carmichael is a Consumer Marketer, who for the last 20 years has been targeting homeowners for all kinds of consumer services; everything from telecom, weight-loss, health and fitness, joint pain relief, travel and more. In 2012 he began focusing exclusively on the residential real estate market, and since then he's worked with many of the top producers across the country in 2 primary areas: geographic farming and past clients/sphere of influence. His expertise is helping agents nationwide get more listings through better marketing. 
In today's episode, we discuss what motivates a homeowner to choose one agent over another, and how it's easy to start winning more listings by better understanding great marketing. 
In this episode, you'll learn..
How homeowners choose an agent … Trust vs Top of Mind
"Why to choose you" postcards
Top of mind touches
Identify sellers before they come on the market
Personal touches throughout the year
Links and resources mentioned in this episode.
To subscribe and rate & review visit one of the platforms below:
Follow Real Estate Success Rocks on: