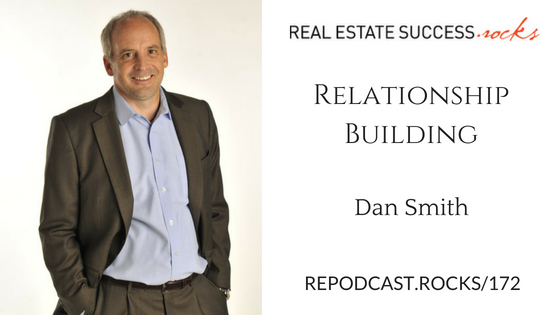 172 – Relationship Building with Dan Smith
Dan Smith is the author of three books, including the #1 Best Seller "Failing Greatly, Your Guide to Achieving Success after Failure", which reveals the experiences while on his odyssey from failure to success and balance. Complete with intimate details of some of his worst days, including bankruptcy and near homelessness, Dan shares how he bounced back and found success and balance in both life and business and how others can do the same.
Dan was a top producing real estate agent in the resort market of Big Bear Lake, California. In his last five years as a Realtor, before selling his business, he averaged over 200 sales per year. In his final year of selling real estate full-time he closed 321 transactions and was listed in The Wall Street Journal as the #9 agent in the United States.
In today's episode, we'll be discussing the importance of building and nurturing relationships in this new climate of social technologies and disconnection.  
In this episode, you'll learn..
Why relationships are so much more important in 2018 and moving forward than ever before

3 ways to build a relationship

The intent of relationship versus asking for deals and referrals

How to track success
Links and resources mentioned in this episode.
To subscribe and rate & review visit one of the platforms below:
Follow Real Estate Success Rocks on: