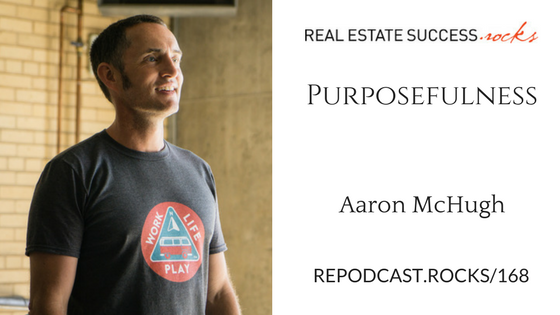 169 – Purposefulness with Aaron McHugh
Aaron McHugh is a writer, podcaster, adventurer, and author of the best-selling book, Fire Your Boss: A Manifesto to Rethink How You Think About Work. He is mastering the art of living a sustainable work-life balance that constantly interweaves rhythms of play and adventure. That includes road trips in their 1974 VW Bus, aka The Joy Bus, catapulting them into many father-daughter adventures together.
In today's episode, we'll discuss how discovering the underlying purpose and meaning in our lives can make us more resilient, and drive us forwards in our worldly pursuits. 
In this episode, you'll learn..
Experiment on finding deep meaning
Deep Belief Transcends Circumstances
Explore your own frontier
Take Action
Pitfalls
Links and resources mentioned in this episode.
To subscribe and rate & review visit one of the platforms below:
Follow Real Estate Success Rocks on: