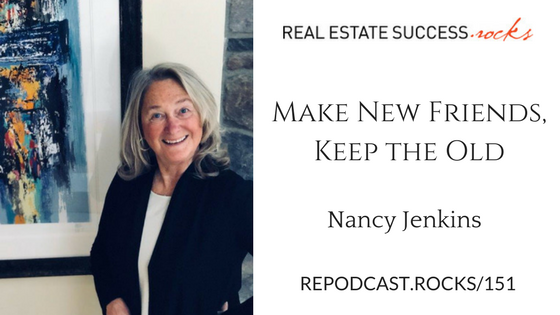 151 – Make New Friends, Keep The Old with Nancy Jenkins
Nancy is the Number 1 Agent in Vermont! She began her successful real estate career in 1981 and now holds both the CRB and CRS designations. REALTOR Magazine has featured Nancy as one of the Top 100 Residential Salespeople in the United States. Nancy was President of the Northwest Vermont Board of Realtors in 2001.She was director from 2002-2007, and again in 2013 and 2014. In 2010, she received NVBR's Distinguished Service Award. Nancy was honored to be named the NVBR Realtor of the Year in 2012. Today we're talking about growing your network, & how to organize for productivity. 
In this episode, you'll learn..
Basic Rule
Most Important Asset – Database
Contact Activity
Keys to Success
Links and resources mentioned in this episode.
To subscribe and rate & review visit one of the platforms below:
Follow Real Estate Success Rocks on: