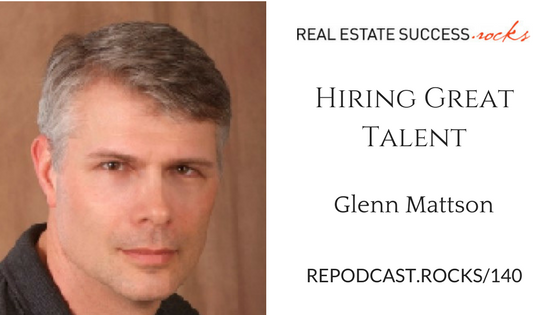 140 – Hiring Great Talent With Glenn Mattson
As Founder and CEO of Mattson Enterprise, Inc. Glenn oversees an elite team of practice development consultants who provide solutions to agency leaders and salespeople facing the challenges of achieving extraordinary success in highly competitive and overcrowded markets. Glenn is is an extremely sought after keynote speaker, a gifted and respected platform trainer, coach, advisor and author. Today we're talking about how to find great people to work in your business. We'll cover some innovative interview techniques to identify the best talent, and how to put yourself in the strongest hiring position. 
In this episode, you'll learn..
Common Interview Mistakes
Interview Skills
What to Look For
Onboarding
Links and resources mentioned in this episode.
To subscribe and rate & review visit one of the platforms below:
Follow Real Estate Success Rocks on: