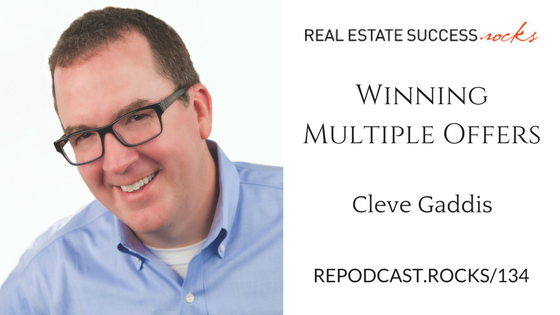 134 – Winning Multiple Offers With Cleve Gaddis
Cleve serves the Metro Atlanta, GA area, and has been in the business for 15 years. In 2016, he and his team of 13 sold 200 units for a total of $60 million. Today we're talking multiple offers, and some key guidelines to succeeding in multiple offer situations. 
In this episode, you'll learn..
Who else can a client blame?
Provide the Roadmap in advance
Know the type of market you're in – and educate your client
Provide buyer clients with tips for winning in multiple offer situation – in advance of getting into multiple offer
Remember the 9 C's to be successful in multiple offer situations
Confidence – give the seller a sense of confidence in your client's offer
Communication – Communicate, communicate, communicate with the listing agent
Convenience – make things convenient for the seller
Comps – understand value in the area because list price and value aren't the same
Clean – keep the offer squeaky clean
Cherish – make sure the seller knows your clients "love" the home.
Connect – Look for points of agreement
Champion – You're the only one who can help your clients win the home they desire
Cap – Use an escalation clause if appropriate
Links and resources mentioned in this episode.
To subscribe and rate & review visit one of the platforms below:
Follow Real Estate Success Rocks on: