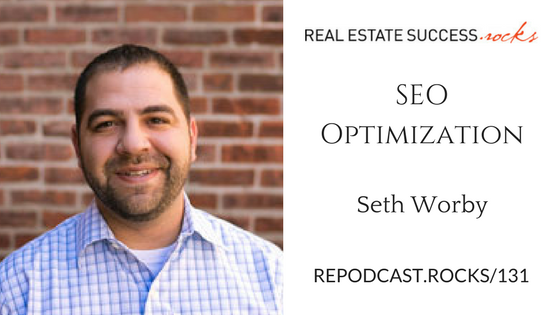 131 – SEO Optimisation With Seth Worby
Seth Worby is backed with a decade of experience in the SEM and SEO fields, Seth founded Champ Internet Solutions in March 2009. A pioneering SEO strategist and web marketer, Seth's breadth of technological and business knowledge helps drive results in terms of SEO, e-commerce, marketing and integrated solutions for Champ's clients. Seth cares about delivering results and knows how to forge strong relationships that yield significant achievements.
Prior to founding Champ, Seth worked at Verndale, one of Boston's largest privately owned web development firms, where he started their search engine marketing department and played a key senior strategist role. Seth also worked at Catalyst Online, a WPP & GroupM company and one of the nation's premier SEO agencies as a Project Manager and SEO Specialist. At Catalyst, Seth managed and strategized SEO efforts for industry leaders Pfizer, Procter & Gamble, A&E TV (including biography.com and history.com) and Novartis. Before joining Catalyst, Seth worked for Shark Communications, a leading interactive marketing and advertising agency in Vermont as an SEM Analyst and Webmaster for large banks and small to mid-sized businesses.
Seth earned a Bachelor of Science in Business Administration with a focus in E-Business Management from Champlain College, which was the inspiration for the company's name, Champ. When he's not at the office, Seth can be found in Vermont or the Rocky Mountains snowboarding during the winter, at Gillette Stadium on a brisk fall Sunday or at Fenway cheering on the Red Sox.
In this episode, you'll learn..
What is SEO and how does it impact a realtor/agencies online ranking?
Why it's important for agents/agencies to carve out a geographic niche online? How does this affect their SEO?
Why should realtors incorporate local key words into their web copy/content? How does this affect their ranking?
What are long tail key words and how should agents/agencies use them in their web copy?
Should agents use links to improve their online ranking? What kinds of links could they include on their site?
How does creating content affect an agent's ranking? What kind of content do you recommend agents/agencies create?
How important are customer reviews?
Links and resources mentioned in this episode.
To subscribe and rate & review visit one of the platforms below:
Follow Real Estate Success Rocks on: